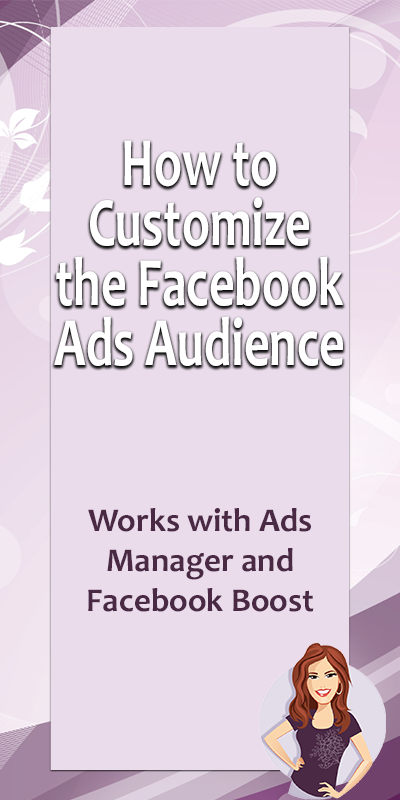 When I conduct my workshop on how to use Facebook for businesses, people are most often surprised by the level of customization the Ads Manager tool allows when it comes to the audience. I can customize the Facebook ads audience down to the tiniest detail and to me, that makes it fun!
Let's say I own a photography business and I want to put my ad in front of newly engaged couple. I can select a customization that says "engaged in the last 6 months" and it's accurate. Why? Because the first thing girls do when they get engaged is update their Facebook status.
In this video I use an example of homeownership. There are two types of categories and Facebook was being finicky when I made the video. Normally, I would have Homeownership > Interest and Homeownership > Demographic. There are more people in the demographic than in the interest. I can select both to give me the broadest audience.

But let's say that's too broad. If I'm looking for homeowners in the top of the income bracket, I can select that, too. Facebook has two options here, the AND or the OR clauses. If I just go back to the same box from homeownership and add income, that's an OR clause. It means homeowners OR people in the top 5% of the income bracket. If I select the NARROW option, which I show you in the video, you can make it an AND clause, so homeowner AND top 5% of the income bracket. This can be a great way to reach an audience interested in a luxury product.
The next thing that is important to note; however, is what I call Facebook's policy on the creepy factor. In the first example, with the newly engaged couples, I cannot make an ad that says, "hey I heard you just got engaged in the last 6 months, need a photographer?" That's too creepy. People don't understand or choose not to realize that by updating their status, they become an easily identifiable demographic. Instead, they just think you're stalking them. So Facebook has a policy that you may not run ads that violate "privacy" in this way. Using something like the housing demographic is an easier way to reach your audience without creeping them out. I used to work with a lot of medical providers and I would use luxury brands to help reach people who might be interested in elective procedures. So rather than use "likes Botox" as a demographic (because that would be creepy), I used things like women over a certain age who like Prada and Chanel. I show you in the video how to hunt for business entities by using Coach purses because they are a little bit harder to find.
Throughout the process, you can see the meter on the right-hand side move up and down based on the number of people in my pool. The number of people in your pool will determine how expensive they are to reach. A very narrow audience can be more expensive per click than a broad audience. Keep your budget in mind when you make your custom audience. If you have only $5 to spend, you may want a small pool, but you might also spend your entire $5 on one click. I typically average $1.50/person for a new Facebook Fan in general ads. Reach ads cost a lot less. I'll share more in a new video soon, until then have fun customizing your audience and experiment with your reach. I like to run ads for $10 to test a new audience and if it's good, I'll boost the amount I spend.