I recently did a training as a guest presenter on how to use @hashtags and @mentiontags (also called @attags, call-outs, or shout-outs) and I wanted to share this information with you.  I also have a recording of the training available on YouTube.  Be sure to follow me for more tutorials on YouTube!
What is a #Hashtag?
A hashtag is a way to link similar posts together. You place the # symbol in front of a word or group of words with no spaces or other punctuation. This creates a hyperlink that will open up a stream of posts using the same hashtag so that you can easily see what other people are saying on this topic. Hashtags go both ways, though, and can bring people to your post just like it can bring people from your post to other posts. The hashtags stays within its platform, so if I added a hashtag to a post on Facebook, the hyperlink would open other posts on Facebook. I can never say this enough: social media platforms don't like to share traffic; they want to keep the user on the platform. Thus, your hashtag stays on the platform you used it in.
#Hashtag Best Practices:
Group words with no spaces or punctuation
Use #hashtags that others are following/using
The goal is to bring traffic in
Look for mid-range #hashtags
CapITALiZatiON doesn't matter
Can go inline with text or at the bottom
Be reader-friendly
Don't use too many, it turns readers off
8 on Instagram, 3 on Facebook, 2 on LinkedIn
Always research your #hashtag first
Places to Research a #Hashtag:
The social media platform you are going to use it in
Google.com
Tagsfinder.com
Hashtagify.me
Ritetag.com
What is a @Mentiontag?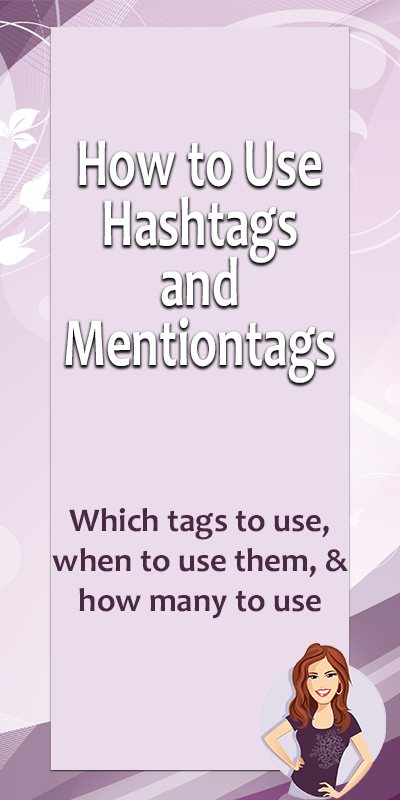 A @mentiontag is a way to call someone out (or give them a shout-out) by their business name or personal name using their "user handle." Just like a hashtag, the mentiontag creates a hyperlink, but think time the hyperlink goes to the business page or personal profile you are mentioning. So using @Chicadita will create a hyperlink to my page or profile and works on almost all social media platforms. Again, the link stays within the platform you use it in, so using @Chicadita on Instagram will keep the user who clicks it on Instagram. What is so special about this is it creates a notification for the person or business you are mentioning. The goal here is for the user you mention to see the post and engage with it (engagements are likes, comments, and/or shares). If I mention a non-profit and say something nice about them, they are likely going to click the like button, which in turn will show my post to their fans and followers, so it is an opportunity to really extend your reach in front of a target audience. I like to use this with local non-profits to help put my business in front of other local people.
@Metiontag Best Practices
The goal is to get the other business to like or share your post for their followers to see
Look for businesses and non-profits with bigger audiences and more importantly, your niche audience
Like/Follow a business before tagging them to bring them up faster
Look up the user handle in the URL bar
Say positive things when you @mentiontag
Don't give a sales pitch when you @mentiontag