Your USP (Unique Selling Position) is what separates you from your competition. And keep in mind, that competition is any other use of that dollar for the same benefit. So your competition can feel endless when you really stop to think about it. But to keep it in perspective, let's start by thinking about your position versus your direct competition, which is anyone with a similar product or service.
How do I Find my Unique Selling Position?
Start by identifying the benefits of your product or service. People shop on benefits, even if they don't realize it. For example, parents buy a coloring book for their child not because it has pretty pictures, but because it will keep the child occupied while providing a creative outlet, which are the benefits of a coloring book for a child. These benefits will satisfy a specific need. A unique selling position for a coloring book might be that it has over 100 pages whereas the competition maybe typically only has 10. The extra pages would be a benefit to a parent who has the need of keeping a child occupied for a long period of time. Now, another unique selling position might be that the book was made locally and features local pictures, or perhaps the unique selling position is that it is a coloring book full of dragon pictures to occupy a child fascinated by dragons. There are many ways to create a USP.
Not all benefits are obvious and you may have to think more deeply about what makes you unique. Ice cream might feel like it all meets the same need for the same benefit, but that isn't quite true. Some people buy Ben & Jerry's ice cream because the business has ethical business practices. Many people in today's society choose to shop with local small businesses or those that have ethical practices. Another USP might be how long they've been in in business. There are ice cream companies that boast their longevity as their unique selling position with the implication that businesses that have lasted 100 years must be doing something right when it comes to traditional, nostalgic ice cream.
Other unique selling positions include:
Durability;
Quality;
Price (high or low);
Loyalty rewards;
Convenience;
Service;
Speed;
Luxury;
Satisfaction; and
Comfort level.
Start with only one Unique Selling Position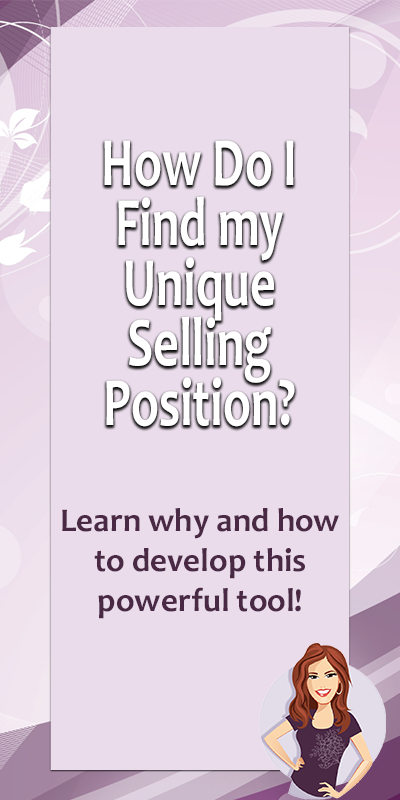 A mistake many small businesses make is jumping in with too many unique positions. With a USP, you can't have it all. After all, no product or service can be all things to all people. When we think about car brands, we typically only associate one or two things with them, yet all cars have many of the same features. The point is to select how you want to be known in a way that reflects the *why* of your business. When hearing the brand Volvo, most people immediately think safety, and Volvo did it that way on purpose. All cars have safety features and may even have some of the same safety features as Volvo, but Volvo decided to compete on safety and be known for it. You must make a similar decision for your business. Pick one unique selling position to be known for first. Then grab your megaphone to spread the news.
A Unique Selling Position is Important
There is a lot of "noise" in the marketplace. Think about how many ads you see in a day or how many shampoos there are to choose from. Having a unique selling position is a way to punch through the noise and be found. It is a part of your brand identity and should go with your mission statement and mantra.