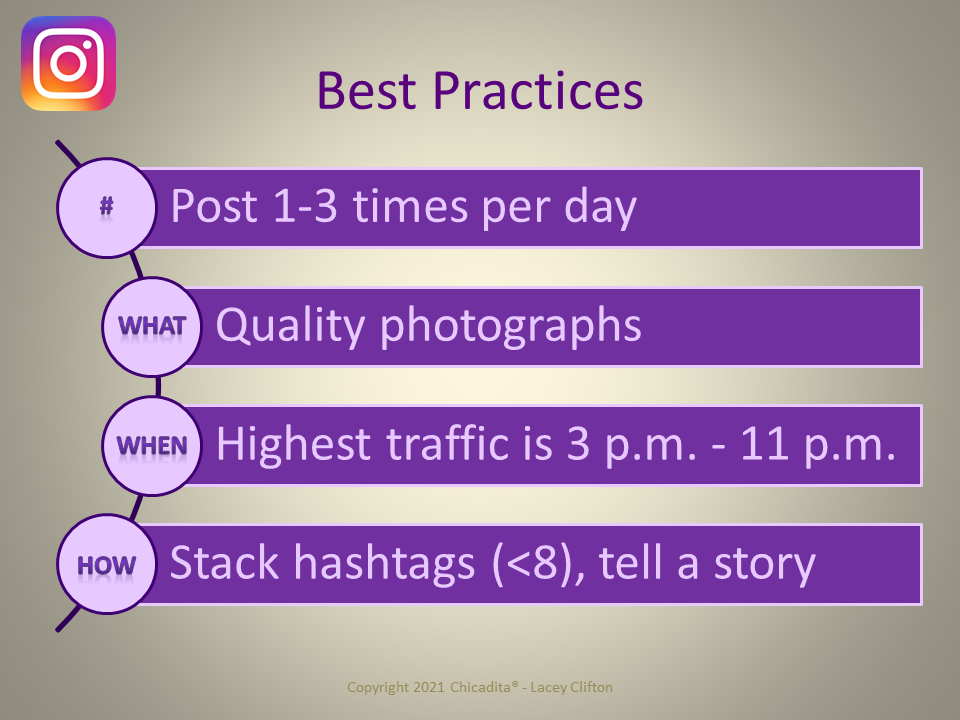 Instagram is rapidly increasing in popularity among a younger demographic and those in the art and health industries. Hashtags are more popular here than on any other social media platform. Pictures with filters are used to tell a story and the only link you get is the one in your profile, which can make this a difficult platform to see a good Return on Investment (ROI).
Now that Instagram is owned by Facebook, more integration features have been added including simultaneous posting and cross-platform stories.
Instagram Services
Instagram Account Creation and Integration
If you're ready to jump into Instagram, I can help you set up a new account and integrate it with your Facebook account foe simultaneous posting and the use of cross-platform stories. New accounts include an avatar and bio along with following other relevant accounts to get you started on gaining followers.
Instagram Social Media Posts
Creating Instagram posts is one of the projects I do most often for clients. This can be part of a monthly social media calendar, or I can create posts especially for Instagram. Instagram posts also require hashtag research to get the most engagement and reach (views). Hashtags can be used in-line with the text or added to the bottom of a post. I like to use both methods to make the posts as user-friendly as possible while gaining the most traction for you.
Popular Instagram Tutorials on my Blog: