Leveraging Instagram means knowing your audience.  This is vital before you proceed into growing your Instagram audience.  Not all audiences even use Instagram, so before you jump on the Instagram bandwagon, take a look at your audience first.  Is this someplace where they hangout? 
In this blog, I'm going to assume you've already done your homework on audience and USP (read more about your Unique Selling Position here) and that you can describe who they are, what their pain-points are, what benefits they value, and where they go for answers. If you feel lost already, contact me for an audience analysis; you'll need it for your Business Plan. So, on to how to grow your Instagram audience!
Following is a Common Technique
When you're still a new Instagram user and have less than 100 followers, it's common to reach out to other users by following them in hopes that they follow back. It's a good strategy, but it has a weakness – the Instagram algorithm looks at the ratio you have of followers to following. You need to have more followers than you are following yourself. To use this technique, you can start by following other Instagram accounts that your target audience is following, too. This might be a local chamber of commerce, for example. By following them, you're hoping they will follow you back and that their fans will then see you in their activity. But if you find you are following more accounts than are following you, go through and un-follow some accounts to restore the balance to your ratio.
#Hashtags Reach
Hashtags were invented to enable us to follow topics of importance to us. While using hashtags can lead people off of your post into the stream, it goes both ways and can bring new traffic to your post (this is known as your reach, or how many people saw your post). It's important to find balanced hashtags that are not used too heavily nor too infrequently. You can learn all about how to leverage hashtags on Instagram here. On Instagram, eight hashtags per post has been found to be the magic number. You can use these in the sentence of your post or stuff them at the bottom, both work. Instagram can also understand emojis in hashtags, but I haven't found this to be very useful. Use all eight hashtags per post to increase your reach and thereby gain new followers.
Talk to Others
If all you do is post and walk away, you won't grow a tribe of devoted Instagram followers. Look at the posts that fall into your stream from those that you are following and leave comments! Engage with others on Instagram and you'll increase your visibility dramatically, which will lead to gaining new followers on Instagram. You can also use the @mentiontag to highlight other accounts in your posts to encourage them to engage with you. If you comment on and/or tag Instagram account where your audience hangs out that are not competitors, you'll gain new followers from their followers.
Post Often
Facebook owns Instagram and Facebook's algorithm only looks at the posts you've made over the past seven days. If you only post once per week, your score prior to your post is a big fat zero, which will throttle your reach. Remember, reach is good and leads to new followers in your Instagram audience. If you don't have the time to post daily, make it a goal to post at least three times per week to keep your score above zero.
Don't Use Third-Party Posting Tools
To post often, it's tempting to use third-party posting tools like HootSuite. However, recent studies are showing a reduction in reach if you use a posting tool, likely because so much spam comes through from these kinds of tools. Instead, use Facebook's Scheduling Tool and link your Instagram account to your Facebook Business Page. When you go into the Scheduling Tools area, you'll have a check-box to post to Instagram at the same time as the Facebook post is released, so you can schedule about 3 months in advance this way and not lose reach. Currently, this tool does not let you post to just Instagram (although it will make you think you can!), but it's OK to post the same thing to Facebook and Instagram at the same time as most people are not checking both platforms at the same time. Hand posting every individual post and making them unique to each platform is a great idea, it just isn't realistic in the busy life of a business owner.
Grow Your Instagram Audience Organically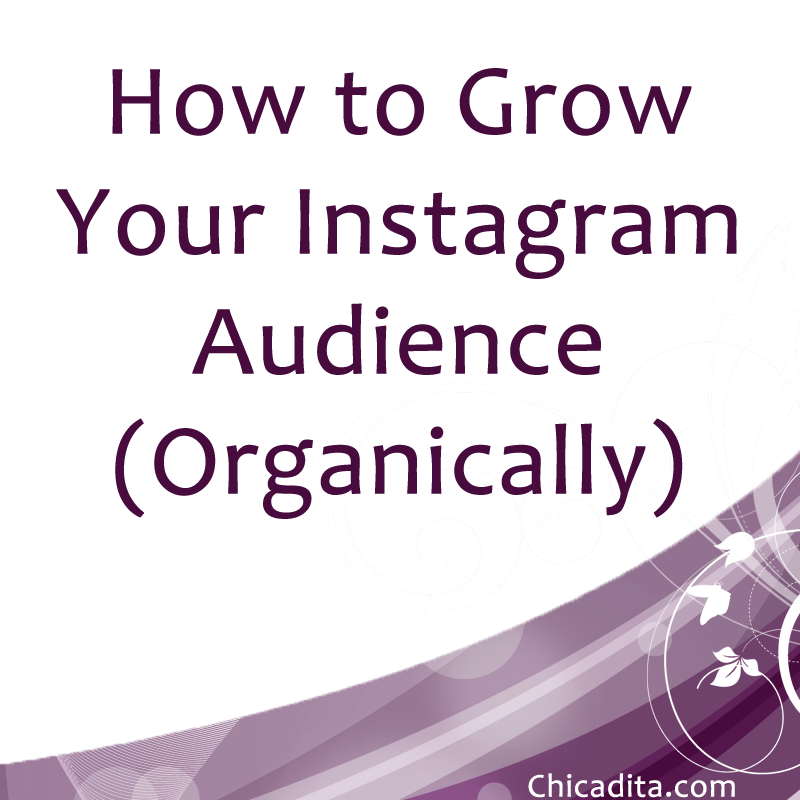 All of these techniques are organic ways to grow your Instagram audience, meaning you don't need to pay for ads. Also, growing an audience organically is more likely to result in obtaining the kinds of followers you really want to have. It may not be as fast as paying for ads, but quality is always better than quantity on social media. Now get out there and start growing your Instagram audience!