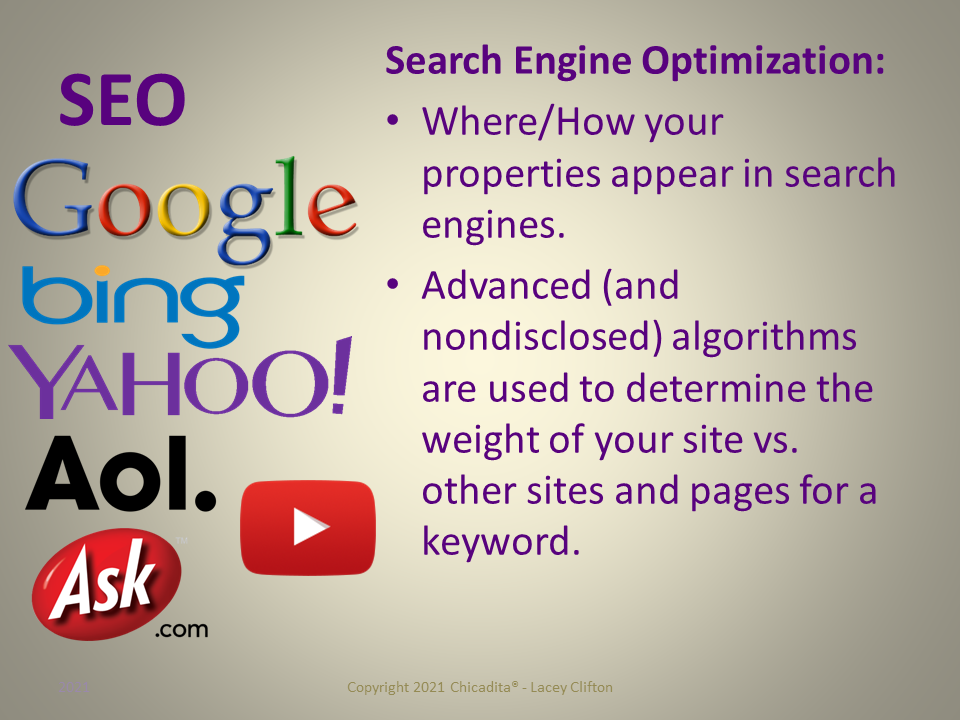 Search Engine Optimization (SEO) is vital to a website in terms of traffic (views). SEO copywriting is as much art as it is science; search engines use non-disclosed algorithms to analyze websites and webpages and determine their weight compared to other websites and webpages. In order to compete online, SEO copywriting is necessary to enhance a website's score and rank which leads to more traffic. Most people don't look past the first page of results in Google, so getting into the top 10 results (that first page) is what everyone is competing for.
SEO Copywriting Services
Page Content SEO Copywriting
In Page SEO Copywriting, most of my clients come to me with a website already in hand, but their site isn't ranking, so I re-write the pages. I'll need to analyze your keyword selection and determine the best fit for that page if this step has not already been done, then I begin to craft the content in a way that pleases both the reader and the search engine bots that crawl your webpages to score you. I can also write new pages and in many cases, my clients and I decide on a few new pages based on the results of their keyword analysis.
Blog SEO Copywriting
Blog SEO Copywriting is a lot of fun for me. I enjoy creating a voice for my clients that is 'heard' in the thread of their blogs. I recommend at least one new blog every month to keep your website fresh in the eyes of the crawl-bots. More frequent blogs can be used as a tool for enhanced SEO as each blog focuses on one keyword. I write blogs in a wide variety of fields from wine and leisure, to law, construction, commercial, business management, and so much more. My clients love my blogs and I love writing them!
Keyword Analysis and Selection
Keyword analysis and selection is tricky, especially with new businesses. Many new business owners want to focus on hundreds of keywords when that simply isn't possible in the very beginning. With all new clients wanting web and SEO services and part of their digital marketing, I like to do keyword research and analysis to decide on which words are worth competing for and which words should be left for later. Typically, it's a balance of a few 'low-hanging fruit' keywords that are easy to get fast traction on, along with high volume (and high competition) keywords that will take dedication to achieve.
SEO Audit
My SEO Audit package is great for businesses who already have a website and want to know how and where they are ranking and why they are not ranking where they want to (or should be) ranking. In an SEO audit, I review all of the pages and blogs in your website through Google analytics (when available) and check the words you want to be ranking for along with what and why you're ranking for others. It's a mixture of keyword research and live, on-site research. You can check out my SEO audit package here.
Rank Checking
With all of my clients receiving SEO Copywriting services, I like to make a spreadsheet of their keywords so we can track their ranking over time. Checking your rank allows us as a team to decide which words need more support and which words are sitting happily on the first spot and don't need any extra resources (at the moment).