Starting a few years back, people come up to me in private at my workshops to ask me about how to use hashtags on Facebook and Instagram.  They are embarrassed to ask the question in front of everyone.  I'm always happy to answer social media marketing questions, even the embarrassing ones, but I want you to know that you are not alone if you think you don't understand how to use hashtags like a pro on Facebook and Instagram.
I wanted to put together a few of my best strategies for how to use hashtags like a pro on Instagram and Facebook (and this applies to other platforms, too!)
Pick Hashtags Like Goldilocks
Some hashtags are flooded with too many posts. Other hashtags have too few followers. You want to focus on hashtags that fit nicely in the middle. For example, #love has a couple of BILLION posts on Instagram. Hashtags are viewed in the social stream (the wall of posts you see) based largely on time (but engagement does also factor into the algorithm, but that's a story for another time). If I post on Instagram and use #love, there are thousands of posts happening at the same time using the same hashtag and they will push my post to the bottom of the stream quite quickly, so quickly that most people following the hashtag won't have a chance to see it. If I wanted to make my own hashtag, say #ilovechicadita, no one would be following it which means I wouldn't gain any traffic from it. It would be too small. I live in San Luis Obispo County, which uses 3SLO for news and events. #SLO has almost 800,000 posts on Instagram, which means my post would stay at the top of the stream long enough for people to see it and interact with it, thereby gaining engagement and new followers. This would be in the 'just right' category for me to use. Instagram easily shows the data on use of a hashtag, which is why I use them in this example and not Facebook. You can also use Google to search for the volume of use on a hashtag.
Check Out Other Users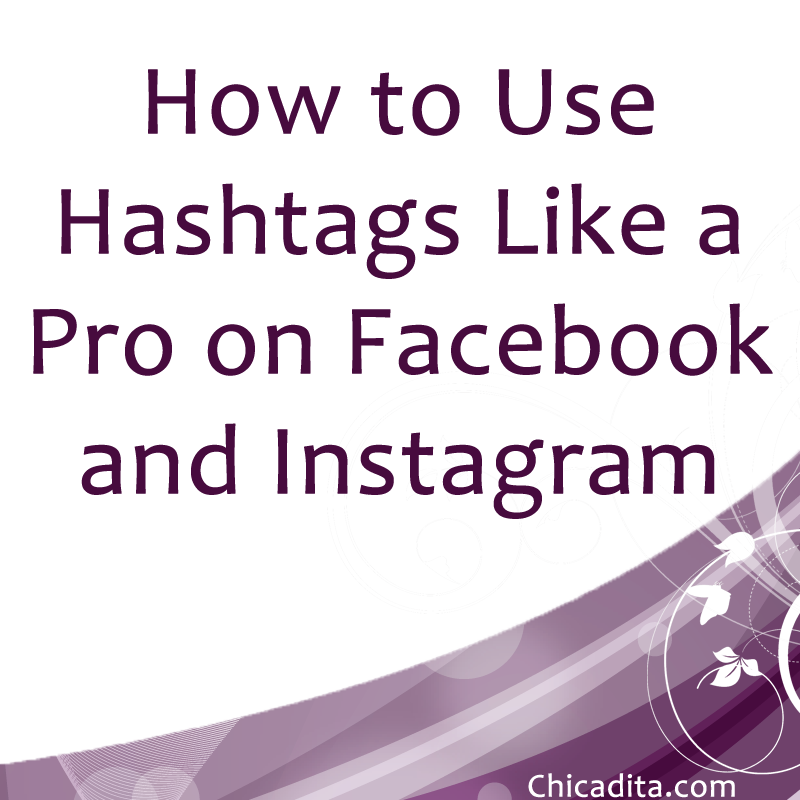 If you've taken a social media workshop with me, you've heard my story about #POS. It isn't a pleasant hashtag and one you don't want your business associated with. People who work in the Point-of-Sale industry often make the mistake of using this hashtag. All you need to do to check out the other uses of a hashtag you like is to type it into the search bar of Facebook and Instagram. This will pull up the stream of posts using that hashtag and you can inspect a few of them to make sure you want to be seen in that particular crowd.
Get Inspiration on Other Hashtags from Cohorts
While you're looking at the use of a hashtag in the stream, take a look at some of the other hashtags users are posting at the same time. For example, with hashtag #SLO I can see someone used #shareSLO, #visitSLO, and #SLOcounty in one post. All of these are potentially new hashtags for me to use with my post as they all relate to San Luis Obispo County. All I need to do to research them is click on them and be taken to a new stream based on that hashtag. It's a quick and easy way to expand your hashtag vocabulary and start using hashtags like a pro!
Don't Spam the Hashtags
Studies show that the optimal number of hashtags to use on Instagram is 8 and on Facebook it's only 2 or 3. The data simply doesn't support any benefit in the algorithm by using more hashtags. Plus, when users see a flood of 20 or 30 hashtags on a post, it appears spammy and turns the reader off. If you want to look like a pro while you're using hashtags on Facebook and Instagram, focus on a few choice words and rotate them on each post. So if I have 10 favorite hashtags to use about #socialmediamarketing, I'll only use a few from my list each time and mix it up every time to get the best saturation which will turn into new followers and better reach. I tend to pick a top 10 for the month and change those top 10 the following month to stay on top of the best trends.
Need more hashtag help? Check out my YouTube video below for even more #hashtag information and pretty soon you'll be using hashtags with all the confidence of a social media marketing pro!