I give a lot of workshops about SEO and when blogging comes up as part of a good SEO strategy, few participants are interested in the details. Why? In my recent survey, business owners voiced concerns over never knowing what to write about and time. Blogging just feels like a huge demand on your time. It feels like work. But guess what, running a business is work! Personally, I love writing blogs for my clients and for myself, but I hear the concerns. If business owners knew why blogging is important for their businesses, perhaps they would feel like the time is worth the investment. So that's what I'm here to explain.
Blogging for SEO
A major component of SEO (Search Engine Optimization) is keyword saturation. That means how many times a keyword appears in your website as a whole and on a specific page. If you have a tiny website with 10 pages and no blog, you only have 10 pages to get the keyword saturation that you need. That's really hard to do without stuffing the keyword (that would be writing "blogging for SEO" over and over and over). And keyword stuffing goes against Google's algorithm and best practices. Now, if you have a website with those same 10 pages, but you write just one blog each month for a year, you now have 22 pages to hold your valuable keywords for saturation. Do you think I can fit "blogging for SEO" more times into 10 pages or 22 pages? 22 pages, of course! And even better, if you can keep blogging, you just add to your keyword saturation with 34 pages, 46 pages, and so on.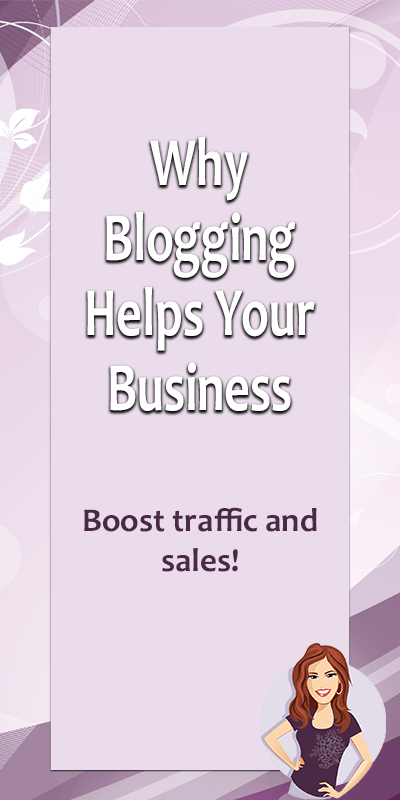 Now that's just the keyword saturation. Blogs also create valuable links (not as strong as a backlink from an outside website into your website, but still something of value) and can boost time-on-site. Time-on-site is a statistic that you can find through Google Analytics and it is a hard nut to crack. Our attention spans are about 2 minutes and 12 seconds long, so getting someone to stay on a page in your site or on your site as a whole for more than 2 minutes is hard to do. But, when someone is reading a blog, they are likely to stay on your site longer to finish reading the article (remember, a best practice is 600-800 words per blog, so that adds up to time spent reading). Boosting your time-on-site will help your overall SEO score (as part of your PR score, or "Page Rank").
Blogging for Social Presence
These are just a few of the examples of how blogging helps your business through SEO. Blogging also helps your business through social presence – replacing the handshake when we meet someone in a virtual way. Your readers will get to know about you, what you do, and why you do it through reading your blogs. When we trust a business, we spend more per transaction than with a business we don't trust or have a familiarity with (in fact, we spend 83% more per transaction when we've become Facebook followers alone!). So, getting someone to read your blogs and gain that insight into your business will help you increase your sales.
Consider Blogging!
That's right, blogging helps bring more people to your website through SEO and boosts how much people spend per transaction with you. More people plus more money equals a thriving business! So the next time you think about how to develop your business, take a moment and consider blogging. You'll be glad you did!