I recently conducted a survey of business owners on the topic of content creation.  Content marketing is a hot trend right now due to Google's search engine optimization (SEO) algorithm and the algorithms used by social media platforms like Facebook, Instagram, and LinkedIn.   In case you're new to this term, content marketing refers to the use of words (the content) in marketing for visibility and engagement. 
As I prepared my survey, I asked around in some of the entrepreneurial groups I'm in about SEO and specifically if it's something they are interested in learning.  The answer was a strong and clear "no" across the board.  Entrepreneurs with an existing business would much rather hire a professional who knows the algorithms than devote the long hours to learning it themselves.  While I agree that a lot of SEO should be done by a professional (I'm here when you're ready for that!), what many people don't realize is that content creation is a major part of SEO and it's something that can be done without dedicating a lot of time learning to do.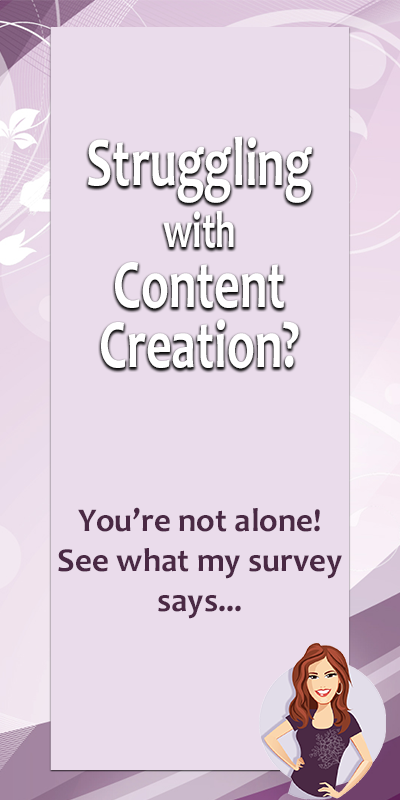 In my survey, I asked about content creation for marketing in blogging and in social media.  The biggest hurdle business owners voiced in content creation is never knowing what to write about.  So, if you feel like you never know what to write about, you're not alone!  The second biggest hurdle voiced was never having enough time to devote to content creation.  And the results were pretty close, which means a lot of you probably feel the burden of both!  If that's you, I'm here to help.
I can teach you strategies to knowing what to write through theme brainstorming sessions and techniques for reducing the burden of content creation on your time, but you have to want to roll up your sleeves and be involved in your business' marketing, which is a familiar place for start-up entrepreneurs who are trying to DIY their small business.  It's easy to say, "I'd rather pay someone," all the while knowing your business isn't in a place to support that expense yet and continuing to procrastinate, when in reality, it is fun and easy to generate content yourself.
For example, a big part of the content marketing algorithms used is devoted to quantity/frequency.  But here's the trick, you don't have to be on every day.  You can schedule your content in advance.  For my clients, I sit down once each month and write and schedule everything.  This takes the burden of daily content and packs it into a nice and easy once-monthly content writing session.  I even have sales periodically of content calendar packages where I write 6-or 12-months all at once so that you can put content marketing on cruise control (look for my up-and-coming Black Friday sale!).  Consistent content will help you beat the algorithms and get engagement.  Not getting enough engagement for the effort was also a very common complaint in my survey.
So are you an entrepreneur who never knows what to write and feeling like you don't have the time for content creation?  Your mission, should you choose to accept it, is to learn the tips, tools, and techniques needed for effective content creation without creating a burden on your time. 
Are you willing to accept this mission?  Great!  I'm preparing a course and Facebook group all about effective content creation.